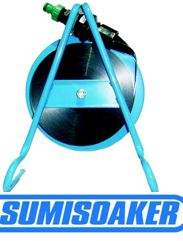 Lightweight, easy to manoeuvre watering unit that eliminates the need for costly and cumbersome watering systems, providing the essential results needed to keep your grounds thriving! Simple and fast to roll up and relocate to other areas.
Eliminate the need for expensive and cumbersome watering systems. Sumisoaker is lightweight and easy to move around, a 50m unit weighs only 5kg.
Store it with ease. Irrigation units are compact and easy to store with a 50m unit being only 32cm in length x 23cm wide x 43cm heigh.
Water an area up to 1000 square metres. 500 square metres is equivalent to a full sized tennis court.
Low operating pressure. Maximum operating pressure is 200kpa (30psi).
Variable length. Adjust the watering length by the unique sliding stopper.
Filtration system. Available with a special inline filter.
Low installation costs. Whether for commercial or domestic, Sumisoaker is inexpensive an more efficient alternative to underground watering systems and awkward above ground watering systems. 
Key benefits
Eliminate the need for expensive and cumbersome watering systems.                                                    

Easy to store and relocate.

Fine, soft droplets allow maximum water penetration.

Watering cannot be seen from a distance.

Water distribution can be controlled by the sliding stopper.

Requires low operating pressure.

Low or no installation costs.

Minimal investment.

Ideal for use on turf areas such as narrow or sloping lawns.

Used on bowling greens, golf courses, tennis courts, turf and small farms.

Horticultural applications such as seed beds, potted plants and vegetable gardens.
Key features

Maximum recommended operating pressure - 200kpa (2kg/ cm2), 30 psi
Required flow rate - 150lts per minute (1.5 litres per metre of hose per minute)
Coverage at optimum pressure and flow rate - 10 metres (5 metres either sode of the hose)
Water application rate - 9mm per hour at 200kpa
Dimensions and weight - 41cm diameter / 12kg weight
Tube width flat - 62mm
Tube width inflated - 34mm
Number of holes - 6 holes / 310mm of hose
Material - special black polyethylene
Filter - 181 micrometer = 100 mesh
Hose connection - supplied fitted with (3/4 inch) tap nut
Operating length - adjustable length using the sliding stopper 
Includes GST, postage and handling within Australia.