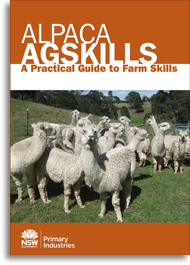 A basic guide to some of the skills and practices of alpaca production. The book contains step-by-step instructions, diagrams, and full colour pictures.
Table of contents:
Condition scoring
Shearing
Eyecare
Mating and birthing
Care of cria
Vaccinating and drenching
Trimming nails
Trimming teeth
Risk management
Legal considerations
Published in 2011, Alpaca Agskills is 92 full-colour A4 pages.
Price includes GST, postage and handling within Australia.