With concrete being one of the most useful building materials, there are countless applications for its use on-farm. The most common uses of concrete are for shed floors and footings, bunkers, post footings and stockyards. 
While the process of laying concrete can be expensive, there are several options for those wishing to carry out the work themselves and save money.
With the correct method, excellent results can be achieved whether the concrete is delivered pre-mixed or mixed on-site. 
Cement is made from a mixture of limestone, shale and clay, which is heated to a high temperature at which point it fuses. It is then ground into a very fine, dehydrated powder and packed in moisture-controlled conditions. 
When rehydrated with water, the cement powder crystallises and expands, forming calcium silicates and aluminates in a chemical reaction. 
Combined with sand and aggregate, the mix binds together to form a strong, rock-like material. 
Mixing quality concrete on-farm can be convenient and cost-effective, provided the correct steps are followed. With a few workers and a decent cement mixer, a surprisingly large amount of concrete can be mixed quickly.

Classifying concrete
Strength — Pre-mixed concrete will carry a classification which refers to the strength of the cured concrete (see Table 1). Normal class concrete ('N') is available in grades of N20, N25, N32, N40 and N50 (the number refers to the strength in megapascals).

Application of concrete
| | | |
| --- | --- | --- |
| Strength grade (MPa)  | Application | Curing period (days) |
| N20 | Footpaths, driveways, light footings, residential floors | 3 |
| N25 | Industrial floors (light traffic) | 3 |
| N32 | Industrial floors (medium traffic) | 7 |
| N40 | External members within one kilometre of the coast | 7 |
| Source: The Referee  |   |   |
Slump — The slump test is used to classify the workability of the concrete, which governs how easy the mix is to work and handle. It is measured by filling a hollow cone mould — which is 300 millimetres high and has a 100mm diameter at the top and 200mm at the bottom — with concrete, compacting it and then removing the cone. The amount of wet concrete that 'slumps' away from its initial 300mm height is recorded. The test is repeated several times, with the average value referred to as the slump. A slump of 20–120mm is suitable for general-purpose concrete (N20 or N25).

The components
While it is often a case of using the materials that are on-hand when mixing concrete, it pays to consider the effect on the finished concrete if unsuitable materials are used.

Cement — The best general-purpose cement is Portland type A, which is light grey in colour. This is readily available in 40-kilogram bags or by the tonne (25 bags to a pallet). Portland type A is suitable for almost all jobs encountered on-farm, including mortar for brick laying.

Store the cement bags off the ground in a dry, well ventilated area. Because cement has a limited storage life, it is best to buy it as needed. Do not use cement that has hardened or become lumpy as breaking it up will only produce concrete of poor strength.

Sand — Ensure the sand or fine aggregate is clean and does not contain clay, organic material or salt. Generally, 'brickies' or 'plasterer's' sand is not suitable for concrete due to its high clay content but can be used to make mortar.

Coarse aggregate — River gravel, crushed stone or blue metal is the most appropriate coarse aggregate and should be less than 20mm in size. Standard gravel often contains clay or fine particles, which makes it unsuitable for concrete.

Water — Only use clean, fresh water for concrete. A rule of thumb is if the water is suitable for drinking, it is suitable for concrete. Avoid using water with a high mineral content such as bore or sea water.

Mix on-site and save
Mixing concrete on-site is the cheapest way of producing quality concrete, provided the correct procedures are followed. But it could be more time-efficient to order pre-mixed concrete for large-scale projects.

A petrol- or electric-driven mixer is suitable for mixing small loads but for larger projects a tractor-driven mixer that mounts to the three-point linkage is ideal. In some cases, the tractor can deliver the freshly mixed concrete directly into the form work, although using a wheelbarrow to carry the concrete is often easier and does not damage the form work.

Select an appropriate mix ratio from Table 2 and add the contents to the mixer in the following order:
Half to two-thirds of water.

Coarse aggregate.

Sand.

Cement. Add the remainder of the water until the desired consistency is reached.

Mix the cement for at least two minutes after the last of the water has been added.
While it is convenient to use a shovel to measure the amounts of sand, aggregate and cement, this is not always accurate: a measuring bucket is preferable.
Mix ratios
| | | | |
| --- | --- | --- | --- |
| Application |  Cement | Sand | Coarse aggregate |
| Paths, driveways, light shed floors | 1 | 2 | 4 |
| Heavy-duty floors, pre-cast items, water-retaining structures | 1 | 2 | 3 |
| Post installation | 1 | 3 | 6 |
| High-strength reinforced walls, thin columns | 1 | 1.5 | 3 |
| Source: The Referee |   |   |   |
Finishing and curing
With the concrete screeded into position, hand floats can be used to work mortar to the surface, evening out the voids between particles of coarse aggregate. Wait until the concrete has lost its shine before passing a steel finishing trowel over the surface to avoid digging into the surface and possibly raising water. Table 3 lists appropriate surface finishes.

Surface finishes
| | |
| --- | --- |
| Application | Finish method |
| Cattle yards, steep driveways, heavy non-slip areas | Sweep with a coarse broom or groove |
| Surfaces suitable for tiling | Screed |
| General non-slip areas | Light sweep |
| Carpeted surfaces | Wooden float |
| Smooth surfaces, areas for vinyl or carpet | Mechanical or hand steel trowel |
| Source: The Referee |   |
Curing concrete correctly is essential for it to reach its full strength and to prevent excessive cracking. For ultimate strength, allow the concrete to cure as slowly as possible by either keeping the surface wet for 3–7 days (using a sprinkler, for example) or covering the surface with plastic to exclude the atmosphere for 3–7 days.



When shovelling into the mixer, always place hands on the outside of the handle (pictured top). Never place hands inside the shovel handle (bottom) because shovels can be caught in the mixer barrel, resulting in serious arm injury.



When tipping concrete into a wheelbarrow, ensure the wheelbarrow is level and stable to avoid spillage. Carry out a 'dry run' before mixing starts, marking the ground where the front tyre of the wheelbarrow needs to be placed. If using a three-point linkage mixer (pictured), the unit can be raised on the linkage to provide adequate clearance for the wheelbarrow underneath, then returned to a more workable height when shovelling.



When the mix is emptied from the cement mixer, add water immediately to prevent concrete drying on the inside of the barrel before the next mix. Pour in water so that it runs down the edge as shown.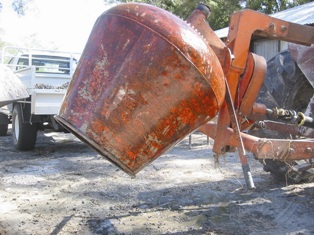 When a mixing session is complete, wash the cement mixer thoroughly with water. Leave the barrel facing down to drain all remaining moisture.



Never mix more concrete than can be handled at a time with the labour available. To screed larger areas, use a longer screed operated by a person at each end. A wooden float can help compact the concrete and bring more mortar to the surface, evening out the voids between coarse aggregate particles. 

Acknowledgement
This information is courtesy of the Kondinin group.