A new kit containing everything needed for a sheep worm drench resistance test has been developed by researchers at the Department of Agriculture and Food WA.
Department principal veterinary parasitologist Brown Besier said the kit makes testing much easier, at a time when department findings show drench resistance in WA is increasing.
"Drench resistance tests are based on the reduction in worm egg counts in small groups of sheep after treatment with different types of drench," Dr Besier said.
"The new kit tests for resistance to four commonly-used drenches: abamectin, moxidectin, a white/clear drench combination, and a white/clear and abamectin combination."
"Resistance now includes drench types that have usually been considered fully effective. Abamectin and moxidectin can no longer be relied on without checking, and we have even found resistance to the triple combinations (a white/clear and abamectin)."
"The consequence of using less-effective drenches is usually not seen immediately, but has a major impact on sheep health and production over the course of a year."
A drench resistance test is recommended every two years and is best conducted on lambs up to six months of age. Tests are ideally carried out from weaning up to summer drenching when lambs are most susceptible to worms. A minimum worm egg count of 300 eggs per gram is required using sheep not drenched within the last two months.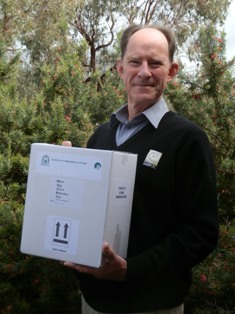 After the test is set up, dung samples are sent to the Albany Animal Health Laboratory and a report is sent back within two weeks. The report indicates  which drenches work against which worm types, and includes general recommendations on the most effective drench to use for good worm control results,  with the least increase in drench resistance. 
 "We recommend that you discuss the results in detail with your veterinarian to plan a worm control program, as the sheep management options vary  between properties and no prediction based on past drench usage or local district patterns can be made, " Dr Besier said.
 Kits can be purchased from department offices at a cost of $440, about the cost of a drum of a common sheep drench. The fee covers the equipment:  quantities of the four drench types, sample containers, pre-addressed postage bags and clear instructions, the laboratory costs, 60 worm egg counts and  identification of worm types in five sheep groups. 
 For more information call one of the department offices handling the kits: Albany, Esperance, Katanning, Narrogin, Merredin, Moora or Manjimup. Contact  details are available at agric.wa.gov.au