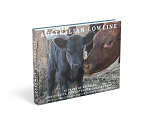 Australian Lowline Cattle are pure Aberdeen Angus genetics originating from Scotland and Canada and developed in Australia to suit sustainable and lifestyle farming.  
The wonderful attributes of this breed makes them highly versatile and appealing.
Whether it's the small acreage farmer, the commercial beef enterprise or the dairy industry,
Lowlines are in demand. If you are new to farming, or just want to grow your own beef, Australian Lowlines are the ideal breed for you.
With increasing costs, sustainable production is what all farmers strive for. The need for cattle that are more efficient in all areas is essential.
Lowlines fit the bill in so many ways. Compact frames producing tasty, top quality beef, no fuss calving, ease of handling, naturally polled, fertile, easy doing cattle - the perfect package! The docile temperament makes them a pleasure to manage.
Due to the strong phenotype of the Australian Lowline, directly attributed to its Aberdeen Angus ancestry and the breeding programs at Trangie, it is highly suited to most climatic regions, not just in Australia but around the world. Consistency in frame size and efficiency result from the breed's heritage and can be seen in the Australian Lowline cattle of today.
The 2017/2018 year sees the Australian Lowline Cattle Association celebrating its 25th Anniversary. To mark this momentous occasion the Association has published a book tracing the origins of the breed from the Trangie Agricultural & Research Station in NSW to the Lowline cattle of today.
This publication highlights the fantastic attributes these compact and versatile cattle have to offer. Awaiting in the pages of this book is the journey undertaken by cattlemen of the past leading to the formation of the Australian Lowline Cattle Association, under the gumtree, and through the years beyond. It's a celebration of the breed and the breeders dedicated to preserving the purity of these unique genetics for generations to come. Containing 336 information packed pages with 300+ photos, all the stories and facts, and beautifully presented in hardcover, this book is sure to be enjoyed by all.
Price includes GST, postage and handling within Australia.