Soil testing made simple. You collect the soil samples send them to us for testing, analysis and a tailored fertiliser recommendation. This soil test and fertiliser recommendation is ideal for farmer's with pastures, crops or horticulture. For other soil testing (vegetable garden) and fertiliser packages, click here.
What's included in the soil test?
The soil test includes do it yourself sampling instructions, sample bags and a reply paid postal bag. A soil probe can increase the accuracy, ease and speed of soil sample collection. The soil analysis assesses the soils current nutrient status and health including:
Total exchange capacity (TEC)

pH (soil acidity)

EC (electrical conductivity)

Organic matter

Nitrogen

Sulphur

Phosphorus

Phosphate Recovery %

Exchangeable cations – calcium, magnesium, potassium, sodium

Trace elements - boron, iron, manganese, copper and zinc.
Soil testing is carried out by an Australian accredited soil laboratory ensuring accurate analysis. 
What's included in interpretation and fertiliser recommendation?
Soil test results are interpreted and fertiliser recommendations provided in a transparent, easy to understand format with nutrients outlined in kg/ha so you know exactly what you are receiving. Each recommendation includes simple mixing and application directions for both you and your fertiliser supplier. View the examples below of what you will receive as part of this package.

Soil test results and analysis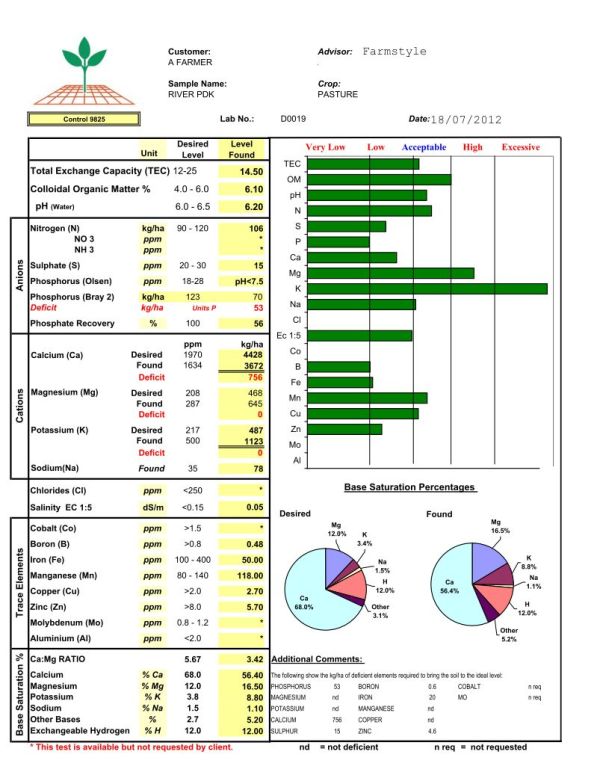 Fertiliser recommendations and application rates for the client

Fertiliser mixing details for the supplier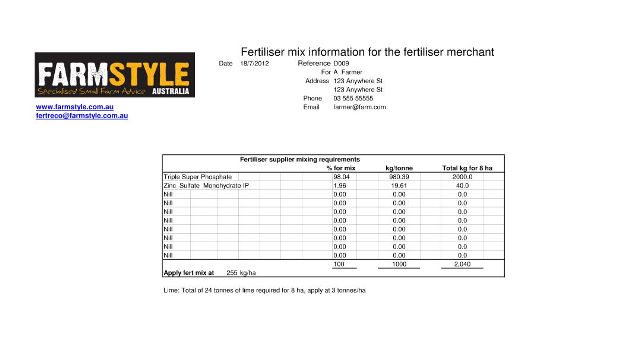 Who conducts the interpretation and recommendations?
Interpretation and recommendations are carried out by a qualified and an experienced agronomist with more than 20 years experience in both horticulture and agriculture. Recommendations are not automated or computer generated. Each soil analysis and fertiliser recommendation receives the individual attention it deserves, just as if it were for our own property.
Fertiliser recommendations aim to be returned within 10 days of soil sample submission.