Farming meat rabbits provides an economic option for many small and hobby farmers who are limited by land area. The best way to get started is to look in your local are for a rabbitry and get some hands on experience, advice and ideas. We recommend that you initially commence with 5-10 does and two bucks to get the feel for handling and managing rabbits. Once you feel comfortable you can easily increase numbers.
   
Once you have good quality breeding stock and feed the next most important factor is disease control. This will be an important determinant of rabbitry performance. Disease control is primarily determined by the quality of housing and the hygiene of equipment and buildings. Artificial Insemination (AI) is useful in controlling disease, as it enables batch production of large groups of rabbits.

Planning
In NSW rabbit farming licenses are no longer required, however most councils have Local Environmental Plans (LEPs) which need to be adhered to. More information can be found by clicking here. For other states contact your relevant government authorities.

Breeding
It is vital to start with good quality breeding stock, to ensure this the breeder who you purchase your initial stock from should supply information about the rabbit's pedigree and performance. If performance has been recorded the breeder should be able to demonstrate their rate of genetic improvement. Ideally rabbits should only be purchased if the breeder can provide this information in the form of Estimated Breeding Values (EBV's); currently there are only 3 rabbit breeders in Australia that can provide this information.

When starting out it may be convenient and cheaper to buy rabbits from a local breeder, however our experience suggests that you should pay more and only start with quality rabbit genetics. Purchasing breeding rabbits costs about $25-$55 dollars depending on quality and breed. GROWTEC, Crusader and Steve Ball are the only rabbit breeders in Australia who utilise EBV's (Estimated breeding values ~ click here for more information), these breeders are all sources of quality genetics.

The New Zealand White rabbits are the most popular breed used in Australia. We have used both the New Zealand White and Californian rabbits with both breeds performing well. Recent research by the CSIRO at Armidale has shown that New Zealand white rabbits perform well as a purebred and also a crossbred with the Californian and Flemish Giant rabbits.

Marketing and Sales
Marketing is a very important aspect of rabbit farming, with this often influenced by your farms location. Before you start producing it is vital that you arrange regular long-term contracts for your rabbits. We market rabbits at 2.8kgs or 10-11 weeks of age, you can expect to receive $4-$6 (incl GST) per kilogram of live weight. You will need to locate and organise a processor in your local area and adhere to their specifications, some processors also charge a kill fee which you will need to factor in as a cost.
 
Cages and Housing
Cages can be purchased from HJN International in Sydney or Agricultural Automation in Victoria with a starting price of $170. Cages have 6-8 sections (smaller individual cages). Three individual cages are required for each breeding doe (one for the doe, one for weaners and one for the growers). Therefore you can house 2 does in each $170 cage. The HJN cage is 1.2 x 3m and meets all the required housing standards. Housing for bucks will also need to be allocated at 1 buck per 8-10 does. Good quality cages come with water, feed and nesting systems pre-packaged. Nest boxes need to be made for each doe – these cost $5-$35 depending on design and construction.

You will require around a metre of space each side of the cage for access and a frame to sit the cages on – this should cost $10-$15 if you make them yourself. In one of our breeding sheds (6m x 18m) we housed 15 cages, whilst our growers were housed in a specifically designed grower shed. The cost of such a shed is variable depending on the materials used and construction. We often use second hand materials and built them ourselves to keep the cost to a minimum. Today we use tunnel sheds which can be seen in figure 1.



Figure 1: Tunnel rabbit shed with cooling system.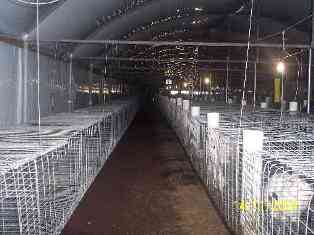 Figure 2: Rabbit cages in tunnel shed.

What ever material is used to construct the shed it needs to be insect proof, contain insulation and cooling (as rabbits produce best at 10-25 degree temperatures) along with as waste disposal system (cement floors requiring regular cleaning in comparison to earthen floors). 
  
Feed and Water  
Feed and water systems need to be set up well in advance of purchasing rabbits. Water systems cost around $3 per individual cage. Feeders can be made or purchased and the cost is variable with the design and quality. We make our own good quality feeders for about $5, with similar feeders retailing for $25 each. These are self feeders and have mesh on the bottom to let fines out of the feeder (this is important).

We only feed specifically formulated rabbit pellets. These can be purchased from most major livestock feed manufacturers. We buy in bulk at about $400-$500 per tonne delivered. A silo will be required to store the pellets if it is purchased in bulk. If you have a small number of rabbit's, 40kg bags of pellets can be purchased for $15-$40 per bag.

Does receive on average 300 grams per day and bucks 200 grams per day. To maintain peak doe performance some producers ad lib feed. Grower rabbits are fed ad lib and eat on average 8-10kg from weaning to 12 weeks of age.

Joining and Weaning
Does are joined for the first time when they are 16 weeks old, after 12 to 14 days of gestation they are palpated to ensure conception has taken place. We strongly recommend you learn to palpate as this makes a huge difference to the level of production. On the 29th day of gestation a nest box, including nesting material (wood shavings) is placed in the cage. We have designed our own GROWTEC Nest Box (see figure 3) which is made commercially for $33. We have found that this cost is worthwhile in terms of rabbit performance and therefore profit. Kittens are weaned and tattooed or ear tagged for individual identification 28 days after birth. The doe can be re-joined 3-14 days after weaning. At 10-12 weeks grower rabbits are weighted, classed (re-joined) or sold.



Figure 3: Growtec nest box.
 

Figure 4: Rabbits eating from a self feeder system.

Labour and Other Costs  
All breeding rabbits need to be vaccinated against calicy virus – the vaccine costs $35-$45 per rabbit, with the vaccine administered by the owner or a qualified veterinarian. 
 
Labour is a major cost, when we had 100 does we would spend an average 2 hours per day working on the rabbits. Extra time was also spent cleaning and transporting the rabbits to the abattoir.

Summary
To be a successful rabbit farmer you need to consistently produce a larger numbers of rabbits per doe per year. This can range from 10-60 per doe depending on your management and breeding program. To assess your performance you should keep good records and use these for selection, culling and evaluation.  
 
A computer software package can help with record keeping and management. Rabbit Central is a program that caters for performance management recording in a commercial rabbitry.